PSPOA Memorial Golf Tournament is Back, Secure your spot today!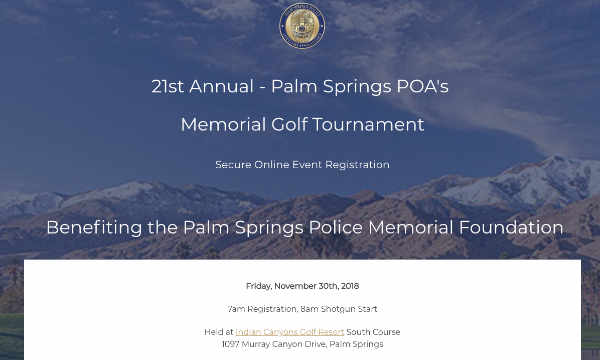 Greetings -
We are planning our 21st Annual Memorial Golf Tournament after setting records last year in attendance and proceeds for our worthy cause. This year we are hoping to break those records and get 240+ golfers on two golf courses. The event will take place on Friday November 30th, 2018.

Will have multiple food vendors and special events on several holes on each course. Those who played last year remember that it was the "best ever". It was a quick round and lots of fun.
We hope you will be able to play and or help us again this year, click here to learn more, https://palmspringspoa.regfox.com/21st-annual-palm-springs-poa-memorial-golf-tournament
Sponsorship packages available.
Your support and participation means so much to the Palm Springs Police Officers' Association and to the families of injured or slain officers that we help. We look forward to seeing you out on the course again this year!
With warm regards, Dan Rose - Tournament Director
Questions? This email address is being protected from spambots. You need JavaScript enabled to view it.